The Maine 2010 Holidays: Stewart Engesser's A Christmas Howl
text by Stewart Engesser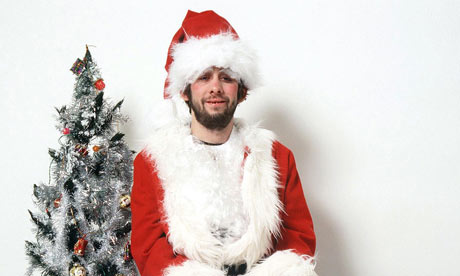 For fifteen years or so, beginning in about 1987, Christmas Eve revolved around three wonderful things: Irish whiskey, corned beef sandwiches, and bellowing out songs of sorrow and disaster with the Connelly Brothers and their extended family of wizened, chain-smoking Irish malcontents.
I was raised in a strict, sober Presbyterian household. On Christmas Eve I was dragged off to church, where our minister would perform a cringe-inducing monologue told from the perspective of a fictional distant female cousin of one of the inn keepers who turned away Mary and Joseph. I'd sit on the cold hard pew as the minister minced along in a disturbing falsetto, saying things like "I just KNEW that family was different, but I never DREAMED they were going to give birth to the Son of God!"
After roughly nine thousand hours of this, eventually the lights would go up and finally, miraculously, I was free.
After an eggnog at home with my family, I'd head to the Connelly's house, nestled in the pines at the end of a long dirt road at the edge of the Great Swamp. For me, this is where Christmas truly began. I'd usually arrive after ten, when the party was lurching toward chaos. The house was always full of cigarette smoke. Dogs barked. A half-blind grandmother swayed in the kitchen, waving her cane at the cat. Florid wispy haired uncles sloshed their glasses of whiskey and ashed their cigars on the cookie platter. Who knew full-fledged adults ever got like this? It was a revelation. I'd walk in, Mr. Connelly would shout something unintelligible about how late I was, and then someone would thrust a drink in my hand and I'd join my friends John and Andy and their three stunning female cousins in the living room. Me and the Connolly brothers grew up playing music together, and Christmas Eve was the night we were expected to perform Irish classics for their extended family. We'd all sneak off, share a joint in the yard, then return, pink eyed and glowing, take up our instruments and the music would start. Guitars, tambourines, shakers, flutes, banjos, a floor tom, an out of tune upright piano; we stumbled and staggered and hollered through all the Irish songs we knew. "Dirty Old Town," "The Parting Glass," "Mountain Dew," "Will Ye Go," "Boys from the County Hell," "Lullaby of London," and even the odd stumbling version of "Jumping Jack Flash," or "Angel from Montgomery."
If the Good Lord took affront at our sinful ways—well, then I guess when I die I'll take my precious memories with me and sing to myself in Hell. But if Christmas is about celebrating grace and joy and love, then those nights of singing with the Connelly's made God and Jesus smile.
Photograph of Shane MacGowan by Andy Soloman/Rex Features.